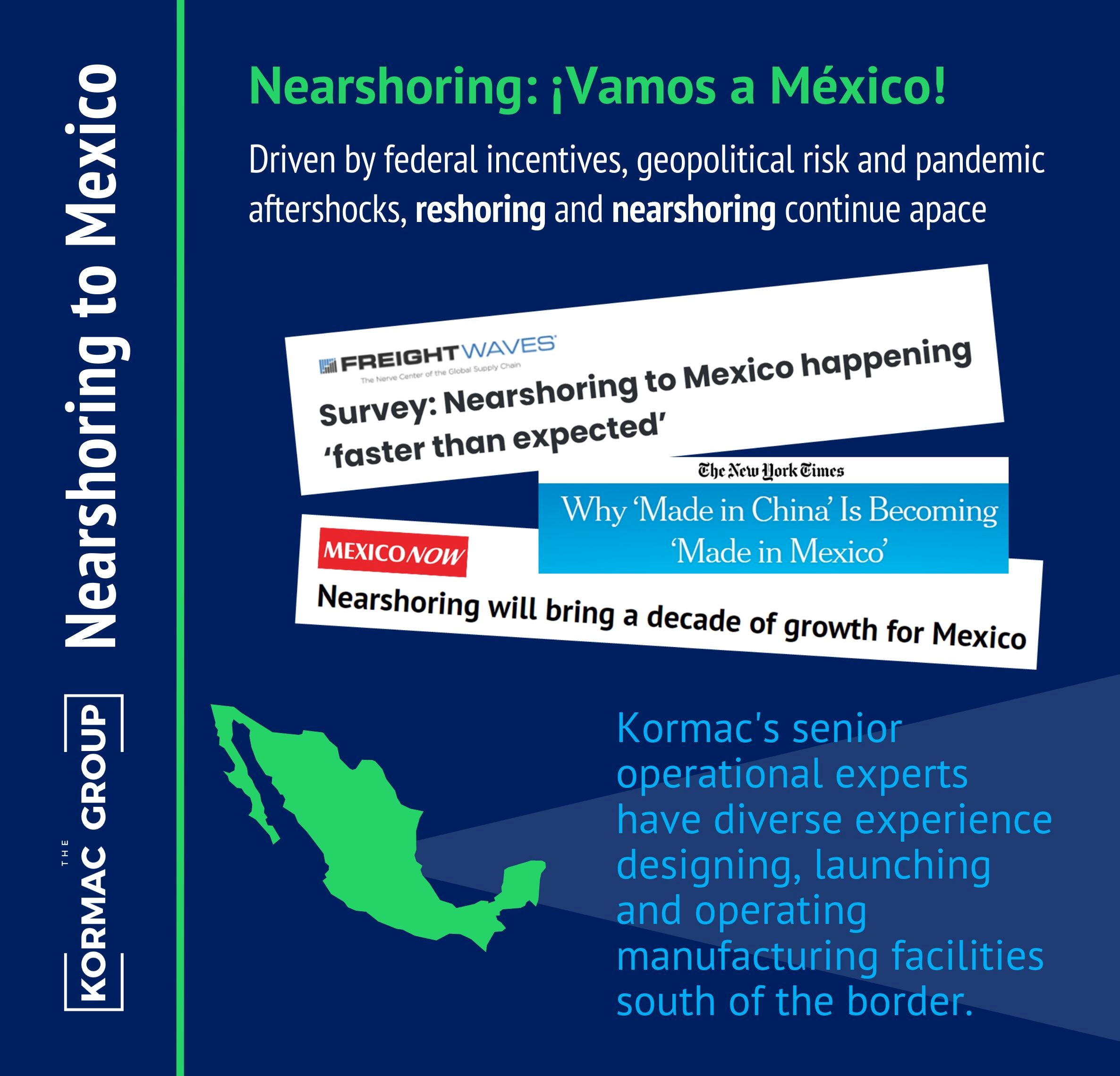 Kormac Insights
March 15, 2023
Nearshoring to Mexico

Nearshoring: ¡Vamos a México!
Driven by federal incentives, geopolitical risk and pandemic aftershocks, reshoring and nearshoring continue apace. For manufacturers compressing supply chains, nearshoring to our southern neighbor provides a comfortable, cost-effective option. Companies of all size are feeling the pull – even 88% of small and medium sized businesses are "reshuffling their supply chains" to use more U.S. and Mexican suppliers this year. Chinese manufacturers are also opening factories in Mexico to better serve the U.S. market.
If "Vamos a México" is on your company's strategic plan, Kormac can help. Our senior operational experts have diverse experience designing, launching and operating manufacturing facilities south of the border. Our team's experiences include:
• Analyzing product make/buy options between domestic and Mexican production facilities
• Lowering freight and wage costs by moving aerospace component production from South Korea to Mexico
• Managing Chinese component suppliers in moving production from Chongqing to Mexico to remain cost competitive
• Operating a network of 13 packaging plants across Mexico serving the appliance market
• Supporting an aerospace component manufacturer in transitioning production from the U.S. to Mexico; improving lead time and competitive position relative to Asian suppliers
• Collaborating with Chinese suppliers to open forward-stocking locations in Mexico and the U.S. to minimize supply chain delays
The case for nearshoring is more compelling than ever. Kormac can make your transition smooth and effective.