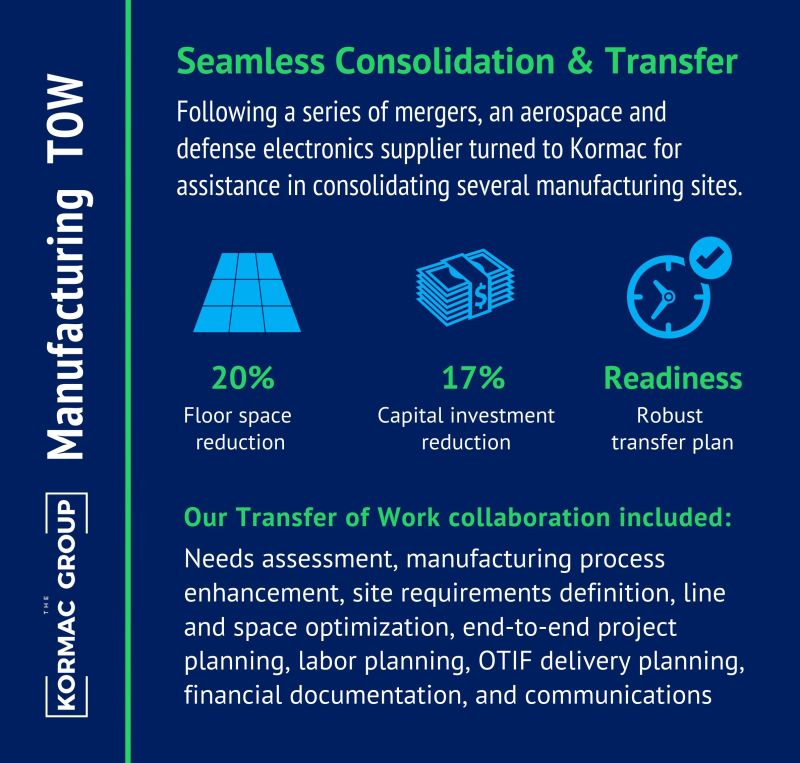 Kormac Insights
August 24, 2023
Manufacturing TOW

Seamless Consolidation & Transfer
It's peak moving season, evidenced by the thousands of moving vans on the road. Manufacturers are on the move as well, with many pursuing facility consolidations and transfers. We recently supported an aerospace and defense supplier in consolidating several manufacturing sites following a series of mergers.
Kormac's Transfer of Work (TOW) team:
• Partnered with in-house technical resources to assess manufacturing processes, operations bottlenecks, and customer needs
• Composed detailed requirements documentation for the receiving site (space, power, HVAC, cleanrooms, chemical exhaust extraction, compressed air, DI water, waste, etc.)
• Enhanced manufacturing line layout to optimize space utilization and improve process flow
• Developed end-to-end project plan for site readiness and four-phased transfer, including temporary duplicate site operations, equipment procurement and installation, OTIF service level preservation plan, hiring plan, and internal communications
• Reshaped action plans as strategic direction changed
• Developed financial workbook to document labor costs, capital investments, exit costs, transfer costs, and savings
In the end, our transfer plan reduced floor space requirements by 20% and capital investment requirements by 17%. For more information on our TOW experience, please click here.